Chartered Physiotherapists
Specialists in Musculoskeletal Physiotherapy
Tennis is a dynamic and explosive sport that requires speed, endurance, strength, power and agility. The game of tennis places unique physical demands on the body and as such tennis players must be conditioned to meet these demands in order to perform at their peak and stay injury free.
Although the average duration of a tennis point is between 3 to 15 seconds depending on the court surface, completing a tennis match from start to finish can last several hours and in some cases longer than a marathon. Tennis players are required to push off explosively and change direction at speed multiple times during a tennis rally. That coupled with the repetitive nature of the game having to impact the ball over and over again means that a player is often at high risk of developing certain acute and overuse injuries.
Though many injuries that occur in tennis are common to other sports tennis does have a unique profile of injuries. The research shows that in the vast majority of cases the more acute injuries tend to be located in the lower limb, whilst chronic overuse or repetitive strain injuries are found predominantly in the upper limb. The areas of the body most susceptible to injury in tennis players are the elbow (20%), ankle & foot (16%), shoulder (15%), knee (12%), back (10%), wrist (6-22%), calf (6%), Thigh (5%).
David O' Connell and Derek Ryan are former Irish tennis internationals working as chartered physiotherapists and strength and conditioning specialists at Portobello Physiotherapy Clinic. Having played the game at elite level both David and Derek have a special interest in both tennis related injuries and conditioning. Both of them treat and provide personal training to tennis players of all levels and ages.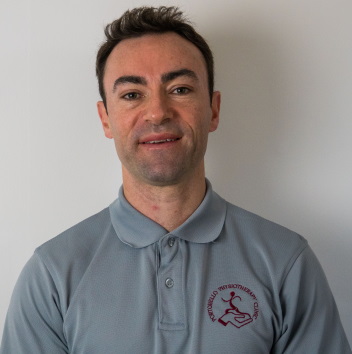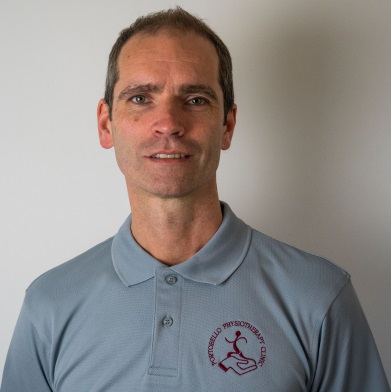 Common injuries sustained by tennis players
Extensor Carpi Ulnaris Tendinopathy (wrist pain)
Portobello Physio
2019-08-30T12:34:50+01:00
A tennis player's wrist joint must be able to withstand large forces acting on it as the muscles and tendons surrounding the joint fight to control the racket head on ball impact. Due to the repetitive nature of the sport the wrist absorbs large forces over and over again during a tennis match. One commonly injured tendon in tennis players is the Extensor Carpi Ulnaris (ECU) tendon which attaches into the wrist joint on the same side as your 5th digit or small finger. Although ECU tendinopathy's are predominantly caused by the repeated bending and extending of the wrist joint during play, it can also result from an acute overload of the wrist joint. For example ECU tendinopathy may result acutely due to an off centre impact between the ball and racket head as these forms of impacts have been shown to create up to seven times greater torque forces on the wrist joint compared to centred impacts.
Tennis players suffering with ECU tendinopathy commonly complain of pain in the wrist joint on impacting the ball, in more severe cases just bending or extending the wrist joint whilst gripping the racket can be painful. The tendon is often tender to press down on and in acute presentations where the tendon has been strained there may be the presence of swelling.
Treatment of ECU tendinopathy usually involves a period of rest or modified play whilst addressing any factors that may have caused or predisposed the player to developing the condition. Hands on manual therapy to address any muscle tightness or joint stiffness may be used in combination with other treatment modalities (dry needling, Laser, heat therapy) to help reduce pain and aid healing. The cornerstone of any wrist pain program will involve a progressive strengthening program to address any weakness in the muscles and tendons around the wrist helping to prevent future reoccurrence.
Darragh Rowan is a Chartered Physiotherapist and Certified Strength and Conditioning Specialist at Portobello Physiotherapy Clinic Dublin. He currently serves as Physiotherapist and Head Strength and Conditioning Coach to Tennis Irelands National Squad at the BNP Paribas National Tennis Centre. He is a former international level tennis player and an I.T.F level three tennis coach. Darragh specialises in the rehabilitation of sports related injuries and also in the provision of sports specific performance enhancement programmes. Darragh has a keen interest in rehabilitating and training tennis players of all levels.
Other Sports related injuries we treat include:
Ready to take the next step?
Learn more about our Patient-Centered Approach to Care or schedule a new patient consultation.